February 20, 2021 – By NJP
In Spring 2018, a young man named Gil Zyndorf walked out on the volleyball court as the setter in Fair Lawn and started new era of success for the Cutters. Much like Patrick Mahomes, he quarterbacked Fair Lawn as a young superstar with the first-year gunslinger launching over 800 assists on a Cutter team that won a North sectional title before being eliminated by Old Bridge in the State semi-final.
As a sophomore, Gil outdid his freshman campaign with the Cutters once again winning a sectional title and then getting one game further than 2018 with a loss to Old Bridge in the state tournament final. Gil notched almost 1,000 assists that season. Since he has been the starting setter, Fair Lawn has an accumulated record of 68-8.
His junior year was supposed to be the "perfect" year. With all of Fair Lawn's success in 2019, they returned almost the entire group of varsity players for what appeared to be the season that would provide the one game improvement from the year before and a State Championship that had eluded them since repeat titles in 2011 and 2012. They had a stellar team with Gil at setter, now D1 Sacred Heart Pioneer Mark Berry at outside, Jack Centeno also at outside, 6'3″ middle and force at the net Dennis Narteh, and now D3 Springfield Libero Alex Work along with a high level of depth and bench talent. But unfortunately with COVID, it ended up being the season that never was…
As Gil enters his senior year, his last as a high school player, he now takes on the Tom Brady role of seasoned professional and playmaker. And he hopes to have the same winning results for a Cutter group that will replenish their team with almost an entire new varsity squad other than Gil.
Gil has had extraordinary experiences and training at Warren Six Pack's top level team for his age group. He has amazing hands as well as on court instincts. He is considered the top setter in NJ and has already committed to D1 NJIT to further his volleyball career. But his senior year comes first, and we expect Gil to once again orchestrate the Fair Lawn symphony and get the most out of the traditional high talent level that comes from the Cutter program. We expect him to finish his high school career on a high note!
Here is our interview with Gil Zyndorf…
Tell us a bit about yourself, Zyn?
My name is Gil Zyndorf. I attend Fair Lawn High School and live in Fair Lawn NJ. I am graduating this year (2021). In my family, I live with my mom, dad, and oldest brother.
How long have you played volleyball and what inspired you to take up volleyball initially?
I have been playing volleyball since I was 13. Initially, I did not want to partake in volleyball, even though I've been around the game since I was five years old by watching my older brother Oren's games. When he moved on to play at NJIT, I would always be bored in the stands hoping the game would be over quickly. The volleyball bug didn't hit me until I was in 8th grade. It was my first full year of playing club due to my dad wanting me to do so. At the time, I was playing outside hitter for six pack 14's. One game I had a really nice hit that was hard and straight down. The crowd's reaction was full of amazement because I just hit the ball in a way no one had seen me do before. This was a turning point for me because I knew I had potential in this sport. It really hit me that I loved to play after that one hit.
What are your metrics/details? Height, vertical, position, club team, etc. What's your favorite position to play?
I am 5' 11". My vertical standing is 32 inches. I am a setter. I play for Fair Lawn High School and Warren Sixpack Volleyball Club. My favorite position to play is setter because I like to touch the ball every play. Also, I have good hands which makes setting very enjoyable and fun. As a setter, I get to see myself progress and improve throughout the year which I love.
Tell us about your Cutter teammates. Who do you expect will be this year's standout and up and coming players?
With heavy losses from last year, we won't have the same physicality but we have guys like Cobey Sedaka, Itay Akad, and Mossimo Caravaglia who have been training hard all year playing club with Side Out Sports. These are three people I expect to perform really well this season and have an impact on helping Fair Lawn win this year.
NJP considers you as one of the top players in the state. Do you plan on playing in College? (If so, which ones are you looking at?) What do you plan to study in college or what is your career path?
I recently committed to play D1 Volleyball at New Jersey Institute of Technology (NJIT). I am very excited because NJIT men's volleyball team is doing very well and climbing up the rankings and getting noticed nationally. Most Importantly, NJIT has a great group of guys who I'm excited to play with and a very good atmosphere with great academics. I'm looking forward to being coached by Danny Goncalves who is a great guy and a very knowledgeable coach. Under his guidance and my hard work, it will take my game to the next level. With regards to my career path, I'm studying finance in college.
In 2019, your sophomore year, Fair Lawn played 4 matches against Southern. They happened to be your 4 best games of the season in assists with 37, 38, 39, and 40. Talk about your motivation when playing the Rams.
Southern has always been our rivals for years. I remember back in 2011 when I was only 8 years old, and my older brother Oren's high school team beat them in the state final. Ever since that year, it's always been a battle between the "North and the South." Playing Southern isn't playing a normal high school team. They have a mentality of no ball hits the ground. Also, they have outstanding defense and always have offensive powerhouses every year. They are led by one of NJ's best coaches and it's always a battle when we play them. We have a mentality when we play them to win at all costs. We remember all of the past times in our program's history where we fell to them, and it motivates us to play harder than last time. On April 19th, 2019 we finally ended the five-year losing streak against southern by taking a win from them at their home court. Later that year, we beat them in a thrilling three setter at the TOC's, and we advanced to the state finals. It was one of the best feelings I experienced after that win. I remember our middle blocker Dennis Narteh crushing the ball 10ft line for game point, and the energy in the gym was amazing.
Fair Lawn was destined to arguably have one of the best starting squads in NJ high school history last year. How does the team move on after a devastating season cancellation?
Last year we were the team that would have made it all the way. We had the best players in the state all in our starting lineup, with five college level players. Once Corona hit, we all thought we would be back April 14th and everything would be fine. As day by day went by, the death toll and the virus kept getting worse. Deep inside we knew what was going to happen but no one wanted to say it. It was truly devastating to hear that our season was cancelled. My first thought was about the seniors who will never step onto the court with a fair lawn jersey again. These are the guys who put in the work endlessly since their freshman year and they couldn't be there to finish what they started. It truly was a disappointment, but it was out of our control. 
"I have had the honor of coaching Gil since he was 14. He feels like a second son to me at times. At 14s he played middle and outside for us. The summer of going into 15s my wife kept saying Gil should be a setter. I said ok we will see what happens in try outs. Gil came to try outs asking if he could try out for setter. The rest is history. Gil has become not only one if the best setters in NJ but in our age group as well." – Coach Pedro Trevino
Tell us about your club volleyball experience at Warren Six Pack.
Warren Sixpack was my first introduction to organized volleyball. Sixpack is a club where you get better and have fun at the same time. Our club director Fred is a great and funny guy, who wants everyone of his players to have fun while playing volleyball. I started off in Sixpack 14's in 8th grade, where I was an OH/MH/OPP. I played every position that year besides setter. These positions helped me develop skills such as hitting and passing. All throughout my years at Sixpack, coach Pedro Trevino is always guiding me on becoming a better player. He has always been a great coach and truly understands every aspect of the game of volleyball. At the start of my 16's year, it was my first full year setting. Pedro took my game to the next level by telling me advice from his setting days that helped me excel. My experience at Sixpack wouldn't be the same without Coach Pedro and he's truly a great coach and guy.
Your first two years in High School were record breakers for stats posting over 800 assists as a freshman and 963 as a sophomore. Pandemic aside, have you ever thought about just how many assists you could have recorded for a career? 4,000? I never thought about individual stats too much. I say this because volleyball is a team sport that needs the skills of seven players in order to win a game. Everyone contributes to a sport like volleyball no matter what your position is.
Tell us about your relationship with your older brother Oren and the influence he has had on your volleyball career?
If it wasn't for Oren playing volleyball first, I would have never picked the sport up. When I was younger, I first saw what hard work looked like seeing my brother grind in high school in order to play at the next level. When Oren moved on to NJIT, he worked very hard and secured the starting libero spot his junior and senior year. He was recognized for his outstanding play by receiving, (Second Team All-EIVA) his senior year. Oren isn't any ordinary libero, he has the mentality that no ball should touch the floor and go at all costs. This mentality made him excel defensively, as that's the strong suit of his game. After college, Oren had the opportunity to go play pro in my Dad's home country of Israel. In his 3rd and 4th year, he was on the best team in Israel winning championships, cups, and playing teams from Russia, Czech, and other European countries. Making it to quarterfinals of the CEV cup and playing against Russian giant Dmitriy Muserskiy. Seeing him put in all the hard work over the years, he is definitely my role model. Oren is one of the reasons why I'm the player I am today. He gives me advice on all aspects of the game and spends hours with me improving my game. I'm happy now that he lives closer to home, so now I don't need to travel 5,000 miles to see him. But overall, I can't thank him enough for all the time and effort he put into me in improving my game.
Tell us about Fair Lawn Head Coach Peter Zisa?
Where can I start! Coach Zisa is a rare specimen of coaches. Not many coaches are like him. This is a good thing. When people first meet Coach, they are a little scared of his demeanor and seriousness in the volleyball gym. Coach Zisa teaches you mindfulness, discipline, and perseverance. He can turn a bad team into a team that makes the state finals in June. He truly works his butt off to win every game, by preparing scouting reports and making organized practice plans for every practice, there's not one time where he's unprepared. Zisa isn't a coach where you can get away with BS. He's not afraid to call anyone out and will tell you what needs to be done. One thing Coach hates is laziness. We must go for every ball in the gym and if we don't, you'll find us on the endline. Stuff like this makes our team disciplines and limits our mistakes. If we're down during a game, Coach Peter is always there to guide us back up to win. As good as a Volleyball Coach Zisa is, no one who I know, knows how to talk like him. Zisa is a tremendous motivator. You can feel what he's saying and his words have an impact on you. His motivational talks before a game hit differently. During the game, Coach is the 7th player on the court. He is the most vocal coach in High School volleyball and always is involved in every play. Coach Zisa is a great person, teacher, and coach. He is someone I'll truly miss as a coach after this year and is someone who I look up too.
You chose to sit out your club season this year at WSP in the new world COVID environment. How do you think that will affect your level of play for the high school season?
Due to Covid, my parents didn't want me playing club this year due to the high amounts of exposure and the infection/death rates. Once they get vaccinated, I'll be free to resume my daily activities. I was definitely disappointed, but I'd rather have two healthy living parents than taking a chance. When it comes to my level of play, I got a lot better this year so far. I'm lucky enough to have an older brother to play with and a net and setter target in my backyard. Over the summer, I played a lot of beach with my brother and got a lot better in the sand. Playing sand, working on my passing, and hitting made me an all-around player, which this season in school, I'll be hitting and setting. I also prioritized working on my physical fitness and strength. So no, this high school season I'll be a different player than I was last season and be in my top shape ready to compete.
Who inspired you?
What inspires me is people who work harder than last time. An example of this is my brother who had to grind his way to the top. Seeing this made me realize that I have no excuse to not workout today or go play volleyball in my backyard, even when it's a little cold outside.
"I feel badly for him that he cannot play right now but he has a great attitude right now about it. He also has a great coach at home. His brother is probably one of the best Liberos to have played in NJ. Oren played at NJIT and also played professionally over seas. So Gil gets to train with an unbelievable player. So I know once Gil comes back he will be better then the last time I coached him." – Coach Pedro Trevino
What is your favorite volleyball story?
Beating Southern in the semifinal of the TOC's my Sophomore year. It was a thriller of a game and it went to three sets. Everyone had a huge contribution whether it was the players, bench, or crowd. The feeling was so great knowing that we'll be going to the state finals.
What is your favorite inspirational video or music that you like to watch or listen to before games?
Depends. In club volleyball, I don't listen to any music before games because there's no speaker in the gym. In high school before every game, the team always makes sure there's rap music on the speaker to get us hyped up for the game and to get the blood flowing.
What are your other hobbies or interests?
I spend a lot of my free time watching videos on Youtube. Most of these videos are pro volleyball videos. I like to follow the Italian Superliga and make sure to watch some of the games weekly. The Italian Superliga is the best volleyball league in the world. The league consists of most of the best players in the world and the highest level of volleyball. Watching some of these players is like watching a machine, they are truly amazing at their craft. Another interest is I like to watch action movies, since I have a lot of time on my hands now.
Who is your support group?
My support group is my whole family. But my parents, whether it's my mom, dad, or both always take me to all my club tournaments. Sometimes one of my brothers will come to a tournament if they're around, but usually both my parents are at every tournament with me. Without them, I wouldn't be able to play club volleyball and go to my tournaments, so I'm extremely grateful for my whole family.
Who is your favorite college or pro volleyball player and why?
I have a few favorites on the pro side.
Luciano De Cecco- Setter from Argentina and playing on one of the top three club teams Lube Civitanova. He makes himself look like a magician. Setting wise De Cecco is a magician and it's crazy to see what he pulls off game to game, whether its a backwards bump set thirty-one or a knuckle set to the opposite, he seems to never stop surprising anyone.
Earvin Ngapeth- OH from France playing for Russia's legendary club Zenit Kazan. Ngapeth is the jokester on the court and does whatever he wants. He is truly fun to watch. Standing at only 6ft 4, he is undersized at his position, especially in one of the most physical leagues in the world. But he makes himself look like he's the biggest guy out of all the Russian giants. He dimes passes, bombs serves, and hits high percentages, all while making it look easy.
Matt Anderson- OH/OPP from USA, free agent. Anderson is everything a coach dreams of. Tall, Coordinated, and has all the skills. Anderson stands at a 6ft 10 frame and played for Zenit Kazan for seven seasons winning multiple club championships and Russian league titles. He has a whip of an arm and will always find a way to finish the ball no matter what situation he's in. I don't see another player his size hitting the ball with so much control. When Anderson is playing OPP, he hits incredible angles and crazy spots on the court. He passes dimes also and truly never fails to amaze anyone.
Nimir Abdel-Aziz- OPP/S from Netherlands playing for top ranked Italian Club, Trentino. Nimir has been having a breakout season at the OPP position. Nimir stands at a 6ft 7inch frame and has a very good vertical. Nimir has a very good hand which he uses to his advantage to hit the crap out of the ball and make smart hitting decisions. He's what brings this Trentino team to the next level by being able to also run the offense when both setters from Trentino were hurt.
Wilfredo Leon-OH from Cuba/Poland playing for Perugia the number one ranked team in the Italian Superleague. Leon played on the Cuban National Team as a 14 year old and made his way to captain at the age of 18. People were saying back then he was the next big thing in volleyball. Well, they weren't wrong. Leon now playing for the Polish National Team will represent his country at the upcoming Olympics. He stands at 6ft 7inches tall and jumps out of the gym. He is the best OH in the world and will be for years to come being only 27. Leon helped Zenit Kazan win multiple world championships and Russian titles. When he gets set you know the ball is going to be finished. Blocking him is always undesirable because he swings so high he hits over you. Leon is going to bring a show for Poland for the 2021 Olympics and is going to be the player people have their eyes on.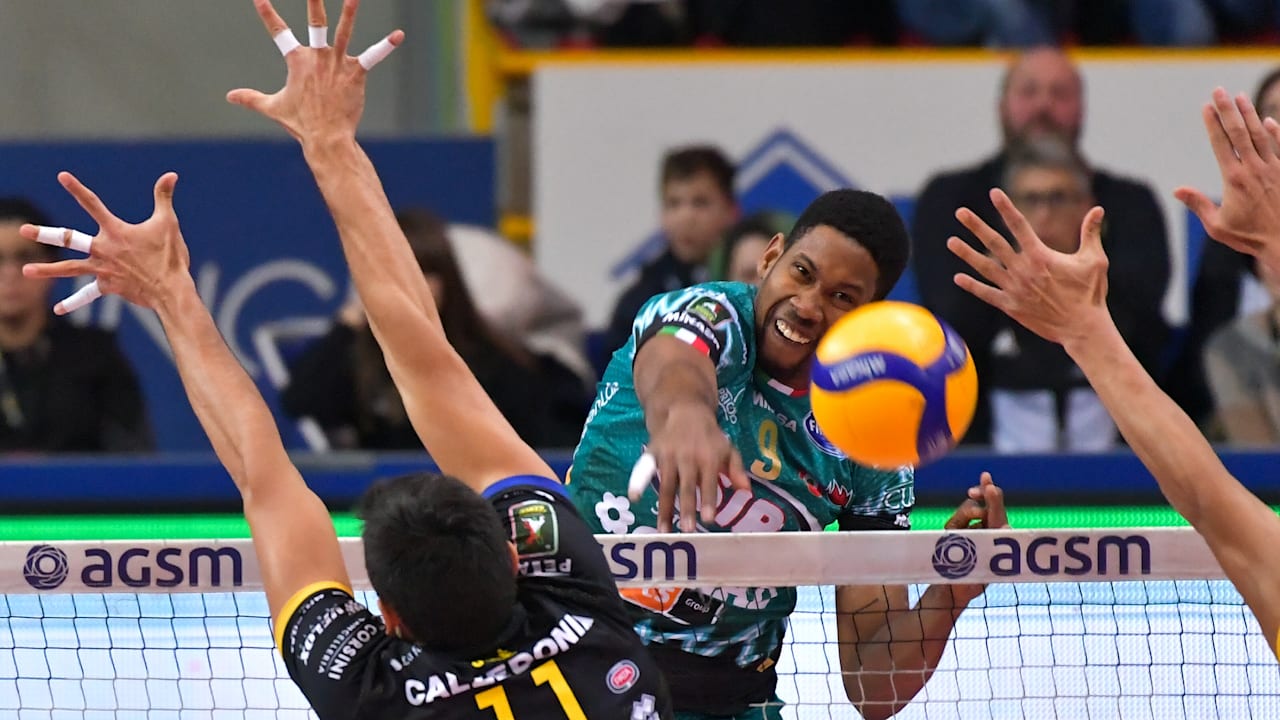 What else would you like us to know about you?
Text me if you want to talk about European/International volleyball.
Is there a teacher or coach who really helped you along the way?
All of my coaches have positively impacted me. I never had a "bad" coach because I'm lucky enough to be coached by some of the best coaches in the state and even the country, such as Pedro Trevino, Peter Zisa, and my brother when he gives me coaching advice.
What was your favorite volleyball tournament and why?
My favorite volleyball tournament was nationals in Phoenix Arizona my 15's year. It was my first Nationals and it was a really cool experience playing teams across the country. Unfortunately for us, we lost every game but Fred picked out a really cool Hotel which had a resort attached to it so it made up a little for the losses. Always gotta enjoy the experience also!
"An interesting thing about Gil is he is probably one of the funniest kids I have ever coached. I will be standing on the sideline and he will walk by meLike and just say something that will make me laugh. That is why I love coaching Gil. He has such a good heart and just loves volleyball. I am very honored to have the opportunity to coach Gil." – Coach Pedro Trevino